Max Tzinman
Duality
April 8 – May 3, 2014
In this show of recent work Tzinman explores the drama of the duality within us all, and its link to the mindless escape within the mob. Tzinman perceives that the desire to be distracted from the complexity of duality (life/death, conflicting instincts) can result in a lack of self-awareness and individual consciousness… a sea of passive humanity sleepwalking through life and a drift towards groupthink. 'When everyone thinks the same, nobody is thinking' (Walter Lippmann).
Most of the artwork starts digitally, printed on canvas, or on 3D printer. Tzinman merges painting, photography, collage, and assemblage, to produce a series of deep, mysterious and disturbing images.
Max Tzinman was born in Romania and lived in Israel and Canada, immersing himself in a multitude of cultures that influenced his artistic philosophy. Formerly an architect, since his move to New York City he has returned to his first love, art. He has recently participated in art and photography shows at LACDA (Los Angeles Center For Digital Art), The Center for Fine Art Photography (Ft. Collins, CO), BAG (Brooklyn Art Gallery), Bryn Mawr Rehab Hospital Art Gallery, Moss Rehab/Einstein, Atlantic Gallery (Chelsea), MOCA (Museum of Computer Art), and the William Penn Foundation.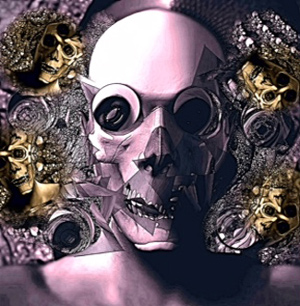 Asako Iwasawa
What Do Plants Dream Of?
April 8 – May 3, 2014
Haunted by Philip K. Dick's novel, Do Androids Dream of Electric Sheep?
I wonder about plants…the energy of plants.
I think they dream like cats and dogs.
When you see my paintings, maybe you will smell the grass and flowers, hear the insects buzzing, and immerse in the dreamscape.
Born and raised in Tokyo, Japan. Graduated from Tama Art University. Downtown Tokyo with hardly and greens. Longing and passionate about nature, decided to live as a farmer in the country side. Spent 10 years waking up at the crack of dawn and toiling in the soil before loosing the battle with ever powerful weeds. Nature is full of thrills and wonders. It impresses me to no end.